Routes
There are numerous possibilities for you to experience the area of Himmelbjerget, whether you hike or bike.
The hike around Himmelbjerg Lakes is approximately 50 km. The more than 40-km-long hiking trial, Himmelbjergruten, has its starting point at Himmelbjerget and runs south of the Himmelbjerg Lakes to Silkeborg, and from Silkeborg north of the lakes to Ry. From Ry to Himmelbjerget, you can follow the hiking route Aarhus-Silkeborg back to Himmelbjerget.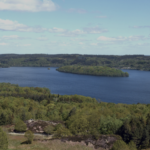 Surroundings
In the course of time, the spectacular nature surrounding Himmelbjerget impressed visitors from landscape painters, poets, and early tourists to wanderers, cyclists, and tour boat sailors. The footpaths in the area still offer fine opportunities to experience the surrounding nature in a calm pace. On the peak of Himmelbjerget, you can acquire food and refreshments, souvenirs, or simply appreciate the spectacular view.
Read more about Himmelbjerget's surroundings